African Sunrise™ Rooibos Tea - 1 pouch (20 bags)
Super antioxidant red tea - no caffeine:


Helps your skin look youthful


High levels of polyphenols


Supports your healthy lifestyle


Good natural sweet flavor


Make it hot or cold

Buy 6 for

$4.99

each and save

17

%
The Super Anti-oxidant Tea Imported by NWC Inc. from South Africa.
African Sunrise™ Rooibos Tea has more Anti-oxidant Properties than Green tea without the caffeine and oxalic acid. It is delicious both hot or cold!
The tea and the plant are both pronounced "ROY BOSS"
Known in South Africa as "Red Bush" because of the color of its leaves, and believed by indigenous peoples to have great healing powers, it began to be cultivated in 1930. Today it is a popular and highly regarded drink throughout South Africa, many calling it the "miracle tea."
New seedlings ready for planting: Bundles of fresh cut Rooibos Fermented and dried Rooibos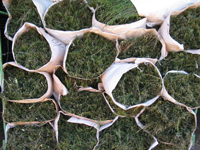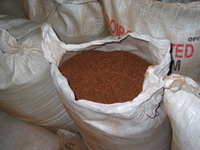 Health Benefits
Aichi Medical University, Japan and University of the Orange Free State, Dept. of Chemistry, South Africa show African Sunrise™ Rooibos Tea to be rich in minerals and contains large amounts of antioxidants.
Gives a soothing effect on skin (when directly applied) Use cold tea bags that have been steeped.
African Sunrise™ Rooibos has no caffeine, no oxalic acid, very low tannin content, and abundant amounts of antioxidants. Significant Minerals: Potassium, Copper, Magnesium, Calcium, Iron, Zinc, and Manganes.
Antioxidants supports the immune system, eliminate "free radicals", Japanese research shows very high antioxidant activity, probably from flavonoid compounds. Japanese research also shows a very high content of the antioxidant Super Oxide Dismutase (SOD) which is believed to be an important component in supporting a healthy body.
Rooibos tea contains superoxide dismutase, which has anti-aging properties and helps to slow down the development of wrinkles. Superoxide dismutase is an enzyme that works to produce healthy skin cells that keep you looking young longer. This enzyme works alongside other antioxidants in rooibos tea to fight free radicals that can accelerate the aging process.
Traditional rooibos is created by fermenting the leaves, which turns them a red-brown color.
Red rooibos tea is oxidized and tastes more similar to black tea and oolong tea. Green rooibos tea is unoxidized and has similar flavor characteristics to green tea.
Rooibos tea has a sweet, nutty flavor that is often compared to hibiscus tea and earthy tones that are similar to yerba mate teas.
Rooibos tea should be steeped for at least 4 to 5 minutes although some brands recommend steeping up to 10 minutes for greater antioxidant development


Article: Rooibos: Research into Antioxidant and Antimutagenic Properties »
Improves Appearance of Skin: Rooibos tea contains antioxidants, enzymes, and Phyto-chemical compounds that help your skin look youthful. Rooibos tea contains alpha hydroxy acid, not particularly common in foods, alpha hydroxy acid in rooibos tea can aid in your skin care routine and help to reduce the look of wrinkles. Like most teas Rooibos tea, contains high levels of polyphenols that provide an array of health benefits.
African Sunrise™ Rooibos Tea is an extremely healthy drink and it is a product tailor-made for today's life-style.
A hot, soothing cup of Rooibos tea is completely pure and natural, containing no additives, preservatives or artificial colors of any kind.
It is low in tannin, a substance which adversely affects the body's metabolism by decreasing the absorption of iron and protein.
The clean, aromatic flavor of African Sunrise™ Rooibos tea can safely be enjoyed in unlimited quantities throughout the day, with no harmful side-effects.
Rooibos tea contains polyphenols that help to fight free radicals, keeping your body healthy and ready to tackle the day.
Our Rooibos tea is naturally caffeine free and with powerful antioxidant and anti-inflammatory properties, drinking a cup of rooibos tea every day can support your healthy lifestyle. Safe for the whole family to enjoy, even your pets!
D Oz talks about Rooibos Tea
African Sunrise™ Rooibos Tea Preparation
African Sunrise™ Rooibos is made like ordinary tea. Use one tea bag of dried leaves per 6 oz. cup. Pour boiling water over the leaves and steep 6-10 minutes.
Because there is a very low tannin content, African Sunrise™ Rooibos tea can steep almost indefinitely without getting bitter.
It is routinely steeped 20 minutes or more, and drunk hot or cold or iced with citrus garnish. In South Africa it is commonly served hot with milk.
It can be reheated with no loss of flavor.African Sunrise™ Rooibos tea has a naturally sweet taste, but you may sweeten with stevia extract or raw honey.
More Information

| | |
| --- | --- |
| Video Embed Link | |