Extra Healing MSM Lotion - 32 oz Slight Tea Tree Scent
Special Price
$46.99
Regular Price
$59.99
Ultra-Pure MSM™ has been called the natural solution!


Hypoallergenic


All-Natural Ingredients


Restoring elasticity to the skin, especially after sunburn


Leaving your skin soft and smooth


Reduced stress from athletic injuries

Ultra-Pure MSM™ Lotion - 32oz Extra Healing

Temporary Relief From:

Back pain

Muscle pain

Fibromyalgia

TMJ and TMD syndrome
NWC Naturals offers three types of MSM lotions - All three contain Ultra- Pure MSM™ and all three offer the same benefit of applying MSM to the surface of an afflicted area. Enriched with natural vitamins A, D, & E.
All Natural!

No petroleum

No Sulfites

No Waxes

No Chemicals
The ingredients in our lotions are all natural with no chemicals, and no artificial preservatives.
Product Features
This great formula helps restore elasticity to the skin.
Helps reduced stress from athletic injuries, and massages with deep tissue work.
All natural with no chemicals, and no artificial preservatives.
Super nourishing and instantly moisturizing lotion packed full of anti-aging antioxidants, vitamins and other skin beneficial nutrients.
Ultra-Pure MSM Lotion: gives the skin a soft feeling and healing properties that lasts for hours.
MSM for Skin, Hair and Nails.
MSM is one-third sulfur, and sulfur has a reputation for being nature's "beauty mineral," for keeping the hair healthy and the complexion youthful. Skin, hair, and fingernails are normally quite high in cystine, one of the sulfur amino acids that gives keratin, a particular kind of protein found in these tissues, its property of toughness.
Many women observe that it makes their skin softer. This effect probably also softens the wrinkle lines too. "We believe MSM can be more beneficial when used in combination, that is, taken orally as a nutritional supplement as well as applied to the skin".
The skin is the largest area of the body that -- and is the first line of defense for the body. There are, of course, immune system functions that take place within the skin area -- and the skin area would be nourished only by the very small arteries (capillaries) so the blood supply at the surface of the skin is not as great as it is further inside the body. When you can apply something on the skin which "nourishes" the immune system cells there -- you are doing wonders in improving the health of the skin (and body).

All three lotions are available in two sizes; eight ounce, and thirty-two ounce. All come with a handy pump top.


Article: What is MSM? »
Natural Lotions
Many skin care products, even those described as a 'natural' lotion, contain potentially harmful and irritating chemicals that dry the skin. To recover your skin's softness and you need a truly natural skin product free of any chemicals, and rich in nourishing, natural ingredients.
Antioxidant-rich Vitamin E and Aloe vera help soften skin soothes and revitalizes. The ingredients in this natural lotion work together for skin that has rarely looked or felt so good. For healthy, natural skin, what's not in a skin care product is as important as what is in it.
Our Natural Skin Lotions are free of parabens, synthetic fragrances, colorants, other potentially harmful and drying chemicals found in other skin care products. It is a nontoxic and hypo-allergenic skin care solution.
The light-weight texture and non-greasy formula of our all natural lotions absorbs quickly leaving your skin feeling silky smooth and hydrated all day. Many traditional lotions for dry skin and other dry skin care products contain chemicals that give the skin a greasy feeling.
Some chemicals give an impression of soft skin that is less dry, but that is not the case. You still have dry skin underneath and the chemicals causing the greasy feeling can actually be further drying the skin. Dry skin is a common problem that can be unsightly and uncomfortable. A person experiences dry skin when the surface of the skin is not making enough oil to keep it moist. Good dry skin care should include a dry skin care routine free of products containing chemicals and irritants.
Our lotions also have the benefits of msm and tea tree oil that will help all the essential oils penetrated deeper and will help heal and stay softer and smother along even after rinsing.
Having healthy immune system, you will have healthy skin!
Diet
Without realizing it, every day you eat processed, over-refined, or sterilized foods that destroy the natural balance of healthy flora in your intestines. Even when eating a so-called healthy diet, your body's flora is bombarded with chemicals, pesticides, and antibiotics that further endanger this delicate balance of friendly bacteria. In addition, most of us don't eat enough if any of the traditional, naturally fermented foods that contain these bacterias.
Age
Studies have shown that over time, the body becomes less efficient at digesting food and maintaining high levels of probiotics in the intestines.
Life-style
Stress, alcohol, caffeine, and medications such as antibiotics are killers when it comes to your bodies supply of friendly bacteria. Taking a probiotic supplement can provide your intestines with the vital bacteria it is missing as well as help your body produce its own brand of B vitamins to combat stress and disease.
Without replenishing our flora and taking a good digestive enzyme product our skin and hair will not be as healthy as it should. You are what you eat or as we say "What you digest".
We also recommend: Chewable Belly-Ease Enzyme Probiotics Combo
Ingredients;
MSM: methylsulfonylmethane - A generous amount of MSM, a substance present in food & used as a nutritional supplement. It is believed our bodies use sulfur for soft tissue repair. Applying this lotion allows you to concentrate MSM in the areas where you want the most benefits. This lotion gives soothing fast relief for sore hands, elbows, hips and knees for hours. The lotion is ideal for skin care and maintenance bringing softness and elasticity to your skin care needs.
Apricot Kernel Oil: is particularly helpful for dehydrated, delicate, mature and sensitive skin, and it helps to soothe inflammation. This finely textured oil spreads easily and is particularly rich in both oleic acid and linoleic acid.
Aloe vera: Has antibacterial, antifungal and antiviral compounds that help prevent wound infections. It also has immune-stimulating and anti inflammatory compounds, and it stimulates collagen synthesis and skin regeneration. Aloe gel contains vitamins C and E, plus the mineral zinc.
Tea Tree Oil: Strong antibacterial, antifungal and antiseptic properties Non-toxic and proven effective for healing and soothing the skin. Tea Tree Oil- It is widely recognized for having strong antibacterial, antifungal and antiseptic properties. Tea tree oil (Melaleuca alternafolia) is a great "entry level" essential oil for natural medicine. This oil is nontoxic and proven effective for healing and soothing the skin
Vitamin E Oil - Is good for that youthful and beautiful complexion, we have blended these fine natural delicate beauty oils with pure Vitamin "E". For silkier skin use where necessary and as often as you like. On face, body, arms, and legs- anywhere dryness appears. Continued use will ensure that dryness disappears. Vitamin "E" Oil is a pure food product that is made for use as a skin moisturizer. Vitamin E is a wondrous little compound that was also an antioxidant. It can help with the healing of scars, burns and stretch marks.
Ultra-Pure Extra healing MSM Lotion
Natural ingredients are:
Triple UV Treated Deionized Water (Aqua), MSM (methylsulfonylmethane), Organic Vegetable Glycerin, Organic Prunus armeniaca (Apricot Kernel) Oil, Organic Prunus amygdalus (Sweet Almond) Oil, Organic Aloe Barbadensis Extract 200:1, Usnea longissima (wild crafted), Organic Calendula officinalis Flower Extract, Organic Vitamin A, Vitamin C, Vitamin E, Grapefruit Seed Extract Citricidal®, Organic essential oil of Melaleuca alternifolia (Tea Tree Oil - anti-fungal, anti-bacterial and benzene free), Fatty Acid Esters derived from coconut pulp used as an emulsifier. Not tested on animals.
Jergen's and Vaseline intensive care lotioncontain some or all of these ingredients:
Cetearyl alcohol, cylcopentasiloxane, ceteareth-20, peg-100 stearate, acrylates/c10-30 alkyl acrylate crosspolymer, artificial fragrance, sodium hydroxide, dmdm hydantoin, phenoxyethanol, ethylhexylglycerin, carbomer, clyceryl stearate, cyclopentasiloxane, dimethicone, disodium edta, distearlydimonium chloride, dmdm hydantoin, ethylene brassylate, glycol stearate, hydroxyethylcellulose, isopropyl isostearate, isopropyl palmitate, methylparaben, mineral oil, peg- 100 stearate, petrolatum, phenoxyethanol, potassium hydroxide, propylparaben, sodium hydroxypropyl starch phosphate, triethanolamine, butylene glycol.
Why will you not see these ingredients in our lotion? It's only natural!
Directions;
Apply a small amount (about the size of a quarter) on an area to be treated. Rub the lotion into the skin until it starts to dry. Feel the luxurious vitamin enriched lotion work. No rinsing needed.
Apply to all areas of the body as needed as often as you wish. Do not use around eye area.
This great lotion helps in maintaining soft skin.
Will help with sore muscle and joints when applied to the area.
Many health professionals use this great product in their office.
Indications
Helps reduces pain associated with carpal tunnel syndrome, restoring elasticity to the skin, especially after sunburn, reduced stress from athletic injuries. Temporary Relief From: Back pain, Muscle pain, Fibromyalgia, TMJ and TMD syndrome. A natural anti-inflammatory-MSM lotion can be the natural solution for pain!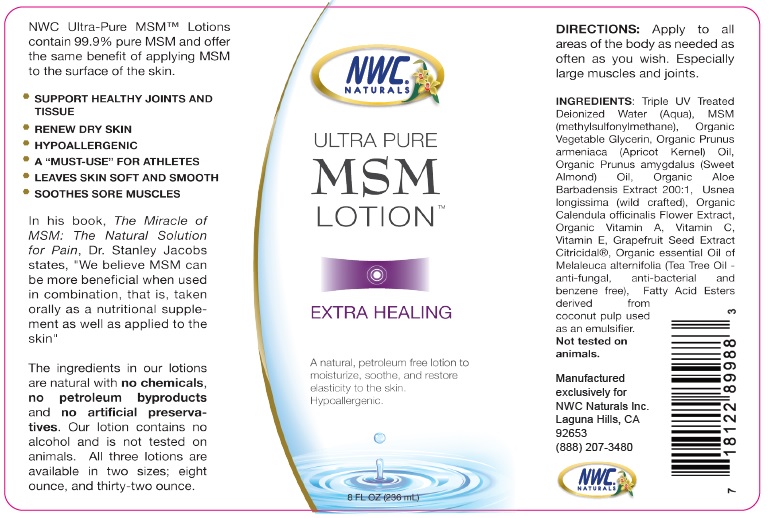 Read our label
1. How do I use this product?
Apply a small amount (about the size of a quarter) on an area to be treated. Rub the lotion into the skin until it starts to dry. Feel the luxurious vitamin enriched lotion work. No rinsing needed.
2. Is this product all-natural?
Yes we use no chemicals or petroleum, or sulfites for this great product to work. Ultra-Pure MSM Lotions™ unique formula works with no petroleum by-products, no waxes, and no chemicals. Use anywhere and feel clean and dry and soft.
3. How often can I use it?
You can use it as often as you like. The natural ingredients will keep hydrating and nourish your skin all day. Even after you wash your hands you still will feel the soft feeling on your skin.
4. Can the MSM in this lotion help sore muscles?
Yes this lotion has a good amount of msm and can help in sore muscle relief. This is just one more thing this unique formula can do. This formula offers temporary relief from back pain, muscle pain, and stress from athletic injuries.
More Information

| | |
| --- | --- |
| Video Embed Link | |