Lightning Air LA-2SPX includes free shipping
Special Price
$384.00
Regular Price
$499.00
The LightningAir is not a filter. Instead it re-creates the same process that Nature uses to keep the air fresh and clean. It generates the negative ions that nature uses to clear the air of dust and other particles. Plus it has a built-in O3 Sanitizer to remove odors without the use of fragrances. O3 breaks down mold, mildew and other pollutants at their source. Comes with a free HEPA filter which is optional.

Please specify which wood finish you want in the drop down below.
The LA-2SPX not only purifies the air, it also sanitizes the entire room... it has an Ionic Purifier that clears the air of dust, pollen and dander around the clock. But for odors, our unit employs a built-in O3 Sanitizer. Just close off the area to be treated, turn the dial and let the Sanitizer do its work – without the use of fragrances. The LightningAir Plus also works great on eliminating mold and Mildew.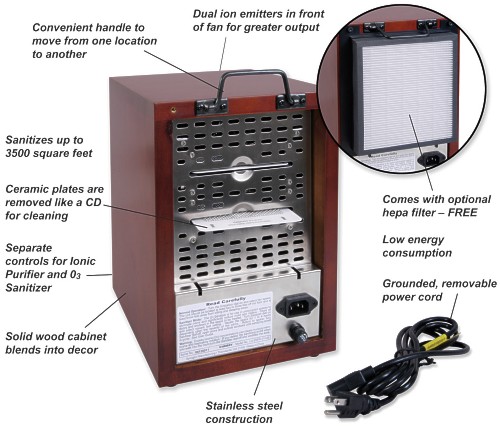 More Information

| | |
| --- | --- |
| Video Embed Link | |